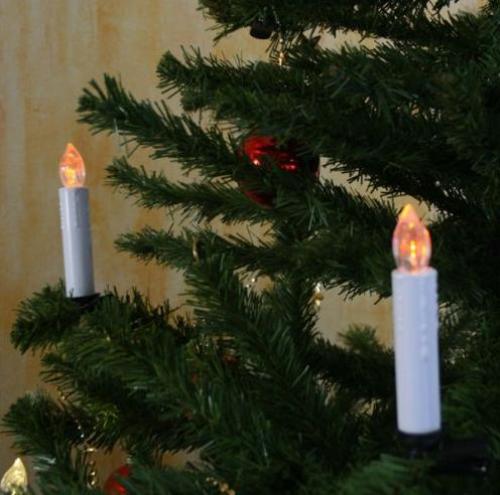 European legislation cannot be lit under the tree. How can there be a festive atmosphere when Christmas is over? This has to mention lighting products such as electronic candles and Remote Candles.

Infrared remote control electronic candle Scope:

Promotional gifts, hotels, bars, karaoke rooms, home decoration, churches, temples, Christmas Day, birthday parties, beach, grass, home decoration, etc., are arbitrarily strong and have a new era of real DIY.

Product introduction:

1)Environmentally friendly and energy-saving, LED product
2) Use a single AA dry cell or rechargeable battery
3) Patented design (ZL200730173833.9), novel structure, high degree of simulation, appearance like a candle, light like a candle's flame flashing; with green Clips.

1. Put a AA battery into the candle in the correct direction and tighten the back cover. Wait until you have put all the candles you need in place where you want to put them.

2, install the remote control battery, press the remote control on and off, this time the candle will be bright or black at the same time.

3, the candle can be placed flat on the desktop, to form some patterns, can also be attached to the metal surface, you can also be placed on the folder above and then clipped to the Christmas tree or somewhere, within 10 meters in the range of press the remote control in your hand ON Buttons, all candles light at the same time, press OFF, all candles are off at the same time. This set of candles is not controlled by other remote controls. Environmental protection and energy saving, LED products,

4, with a AA dry batteries or rechargeable batteries 5, patented design, novel structure, high degree of simulation, the appearance of a candle, the light like a candle flickering; with green clip.

6, easy to place, can be attached to a metal object at any angle, you can also use a universal clip on the Christmas tree, the direction of the pendulum, you can also put the desktop flat, insert sand.

7, infrared remote control, remote control distance of 3-5 meters, suitable for all kinds of occasions, such as sprinkle it, family gatherings, birthday celebrations, holiday ornaments, special Christmas day lighting. The use of numerous candles to form a variety of shapes, with the remote control at the same time light, very spectacular.

8, the battery long working hours, a AA battery can be continuous lighting 200 hours (12-15 days), standby time of more than 60 days, do not have to replace the battery during Christmas, enjoy worry-free relaxation during the festive season lively atmosphere.

Performance:

1, the working voltage: 1.5V SIZE "AA"

2, working current: maximum 20mA

3, standby current: 120UA

4, Working hours:> 200 hours 5, standby time:> 180 days 6, remote control distance: ≥ 3 meters Shenzhen Jingrong Optoelectronics Technology Co., Ltd. specializing in the production of various types of remote control candles, remote control Christmas ball, remote control candle ring, colorful ball, Cup of electronic lanterns and a series of Christmas products, welcome to discuss cooperation.
If you are interest, please contact us freely.
Hebei Seawell I/E Co.,Ltd
Email:sales@hebeiseawell.com
Website:www.hebeiseawell.com